Back to all posts
Posted on
School Re-Entry Plan (Scenario 1)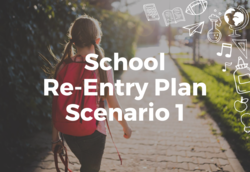 A message from Mrs. English
I am so excited to welcome staff and students back to school for the 2020-2021 school year! As the summer comes to an end I hope that your summer was relaxing and you have had an opportunity to get recharged to start a new school year. I am looking forward to what this year has in store for us and getting the opportunity to work with you and for us to be able to make a difference in our student's education.
As you will notice when you return, our custodial staff, teachers and learning assistants have done an amazing job touching things up around the school and have done an outstanding job in getting classrooms and hallways cleaned, polished and ready for our students to arrive.
I am sure you are wondering what changes are happening in the school and with your child's school day. We encourage parents to review our Re-Entry plan for greater details of procedures and practices. This plan will continue to be updated based on the orders from the Chief Medical Officer for Health, recommendations from Alberta Education and the discovery of new evidence. Thank you for your patience and cooperation. Please contact the office if you have any questions or concerns! Be safe, Be well and God Bless Your Week!
Guidance for School Re-Entry Scenario 1 (Government of Alberta)